What is Pay Per Click (PPC)?
Pay-per-click is a payment model originally developed for banner advertising whereby the advertiser pays a set amount only when a potential customer actually clicks the link to be taken to their website.
Symbol used in our service:

waiting for first payout

program is paying as scheduled

problem with missing payouts, problem with server etc.

program stopped paying
program rated by user as very good

program rated by user as good

program rated by user as bad
program rated by user as very bad

new program in our service

displaying when payout is higher than $100

program information link

exclusive monitoring for long-time paying programs and with high payout

click on this icon to add program to your favorites hyip list

click on this icon to delete program from your favorites hyip list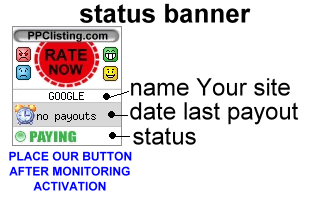 If you have any questions please contact us